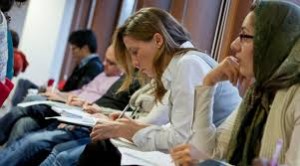 All companies require the services of human resource managers (HRM), and the courses for human resources degree programs help to prepare these business professionals to address all types of labor related issues. The job responsibilities of HRMs vary greatly and can include recruiting staff, generating competitive benefits packages and addressing labor disputes according to legal guidelines. HRMs must employ interpersonal skills, statutory labor relations knowledge and creative problem solving abilities to do their jobs effectively. Here are some course topics from the human resource academic discipline that help HRMs to develop required skills, knowledge and abilities.
Compensation and Benefits
Compensation and benefits packages are key attractions for the most talented staff members in the job pool. Modern, professional, service-based businesses now compete with global companies for top talent mainly because of the proliferation high technology communication tools. Subsequently, HRMs must know how to prepare competitive compensation and benefits packages to recruit and retain personnel who are considered mission critical. Instructors for human resource courses in compensation and benefits train HRMs to accurately conduct job analyses to determine appropriate pay for employees who perform specific functions at varying organizational levels. A course like this also addresses the generation of company wide compensation strategies and the development of pay scales.
Employment Law
Businesses that want to avoid costly fines and embarrassing publicity often hire HRMs who are fully versed in laws pertaining to labor relations. Most HR professionals gain foundational knowledge on the subject through university employment law courses. Basic employment law courses for human resources make HR professionals aware of protected groups under the Civil Rights Act and how to avoid discriminatory actions against them in hiring and employment management practices. Ideally, these HRMs are able to identify and address discrimination issues pertaining to employee age, disability and national origin upon completion of employment law course work.
Intercultural Management
Many of today's companies take advantage of technology and advancements in supply chain management efficiencies to extend their reach into foreign markets. These organizations need HRMs who can identify, assess and accurately address the cultural differences between the company's domestic workforce and the people of the host country in which they want to do business. Course topics in intercultural management help HRMs to develop the analytical and problem solving skills to help companies forge bonds with their strategic business partners in other countries. Through intercultural management courses HRMs also learn how to draft professional development and training plans that include the special needs of company employees who have international job assignments.
Organizational Communication
The really tough problems encountered within companies are usually not technological in nature; they almost always occur due to inadequate communication. HRMs who take courses in organizational communication are able to recognize these issues that may happen among employees or between an employee and a supervisor. This type of course is usually combined with conflict management course work that help to equip HRMs to diffuse volatile workplace situations.
Conclusion
Today's HRMs face numerous challenges as the companies for which they work press to enter overseas markets and grapple with modern issues like the use of social media in the workplace. HRMs who have participated in appropriate academic courses for human resources and stay connected to industry associations like the Society for Human Resource Management are often better equipped to provide leadership for labor relations problems.